Exam Syllabus
- The Capital Markets and Fund Management Industry in Singapore
- Fund Mangement Regulations and Guidelines
- Regulatory Requirements for Licensing
- Regulatory Requirements for Conduct of Business
- Regulatory Requirements for Market Conduct
- Code on Collective Investment Schemes
- Central Provident Fund Investment Scheme (CPFIS)
- Guidelines on Product Highlights Sheet
- Prevention of Money Laundering
About the Exam
- 100 MCQs (computer-based)
- Duration: 2 hours
- Passing score: 75%
- Fee: $200 for Non-Members ($20 off if Corporate Members). Additional $20 off if it is not the first attempt.
There are no exemptions for M3 because it is a Rules & Regulations examination.
Relevant Products
Relevant Products
- 396 unique practice (mock exam) questions in all packages
- 6 Hrs of E-Learning tutorial video content offered in Success package or higher
A recommended study time of 26 Hrs is recommended to prepare for this exam.
Up to Date, Latest Edition
CMFAS Academy has always been the first in the industry to update its material and content to align to any change or update in the official exam syllabus.
Certificate of Completion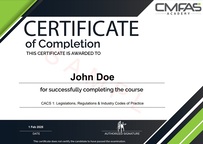 Get a Certificate of Completion for your learning efforts, even before you pass the exam! This is especially useful when you need to convince potential employers of your readiness for the job.

Pricing Information

For full pricing information, click here: Pricing

How to Sign Up for Learning

1. Registering an account by itself is FREE. It can be done either by using your Facebook account, Google account, or completing a sign up form using your e-mail address. A free member may get free trials to our content and access to free resources.
2. After logging in to your account, click on "Subscribe".
3. Choose the exams you need to clear, pick the desired package(s) for each exam.
4. Pick the desired payment method. You will only be billed one time (non-recurring).

Official Study Guide and Booking of Exam Date

CMFAS Academy is a private institution offering online e-learning programs to help candidates pass the exams. The official administrator of the exams are Institute of Banking & Finance (IBF) and Singapore College of Insurance.

Candidates who are unsure which exam to take should check with the compliance department of the company. To book for the exam, please register online through the official websies of IBF or SCI College.

<![endif]--> <![endif]--> <![endif]-->

To Top

The Module 3 Exam applies all persons who wish to conduct fund management in Singapore.