Click here for CACS Paper 2
.
Exam Syllabus
- Overview of the Private Banking Business
- Marketing Activities and Client Acquisition
- KYC and Understanding Client's Needs
- Developing Solutions and Advising Clients
- Obtaining Client's Agreement and Implementation
- Monitoring and Reviewing Client's Portfolios
- Wealth Transfer and Succession Planning for Private Banking Clients
About the Exam
- 80 MCQs (computer-based)
- Duration: 1.5 hours
- Passing score: 75%
- Fee: $300/$350 (Member/Non-Member) $75 off if subsequent attempt.
There are no exemptions for CACS.
Relevant Products
- 405 unique practice (mock exam) questions in all packages
- 3 hours of E-Learning tutorial video content offered in Success package or above
Certificate of Completion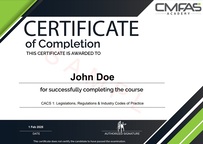 Obtain proof of your learning efforts, even before you pass the exam. Available upon request if you clear at least 90% of the practice questions.

Pricing Information

For full pricing information, click here: Pricing

How to Sign Up for Learning

1. Registering an account by itself is FREE. It can be done either by using your Facebook account, Google account, or completing a sign up form using your e-mail address. A free member may get free trials to our content and access to free resources.
2. After logging in to your account, click on "Subscribe".
3. Choose the exams you need to clear, pick the desired package(s) for each exam.
4. Pick the desired payment method. You will only be billed one time (non-recurring).

Official Study Guide and Booking of Exam Date

CMFAS.com.sg is a private institution offering online e-learning programs to help candidates pass the exams. The official administrator of the exams are Institute of Banking & Finance (IBF) and Singapore College of Insurance.

Candidates who are unsure which exam to take should check with the compliance department of the company. To book for the exam, please register online through the official websies of IBF or SCI College.

To Top

The CACS Series is for persons who wish to work in the Wealth or Private Banking industry.